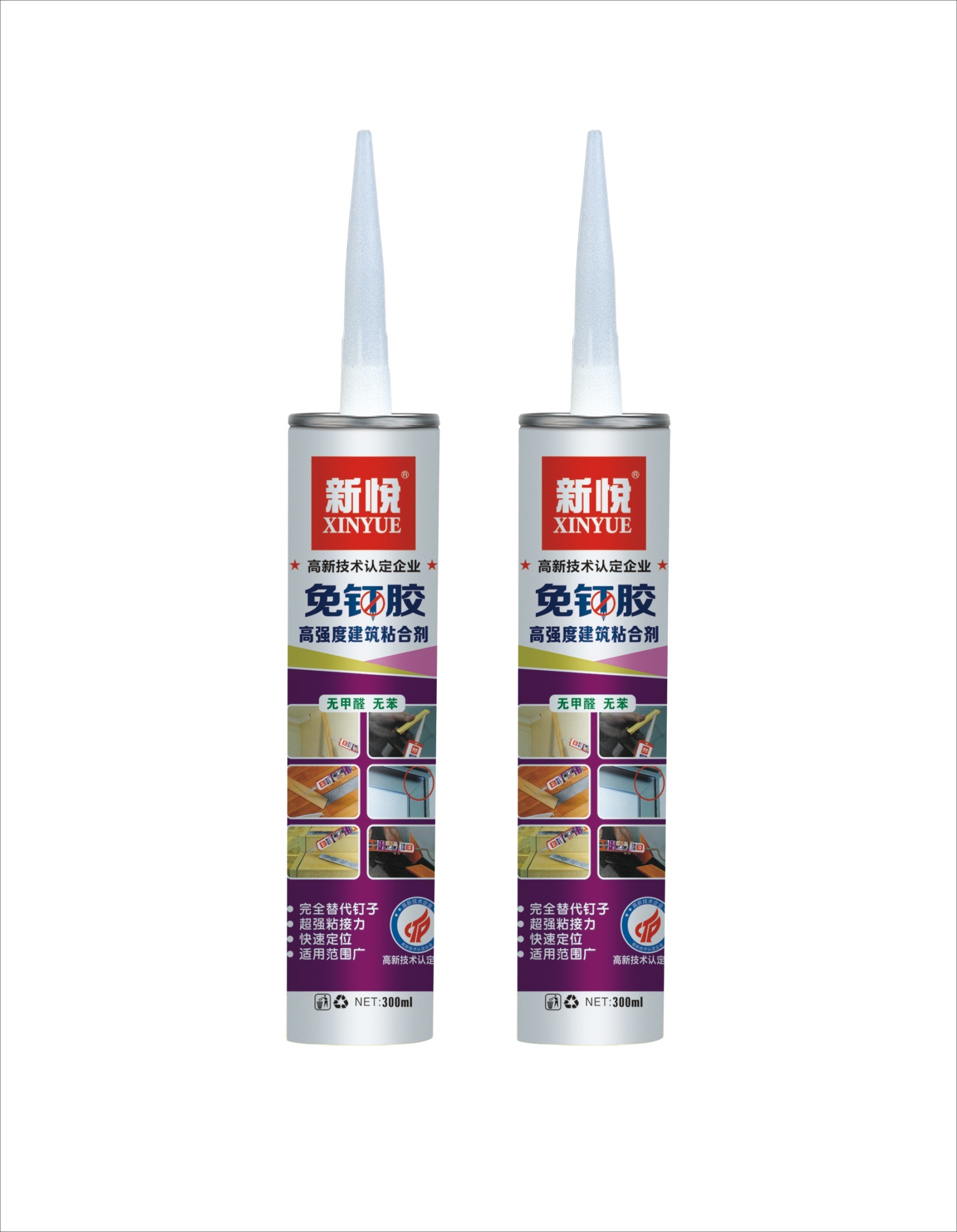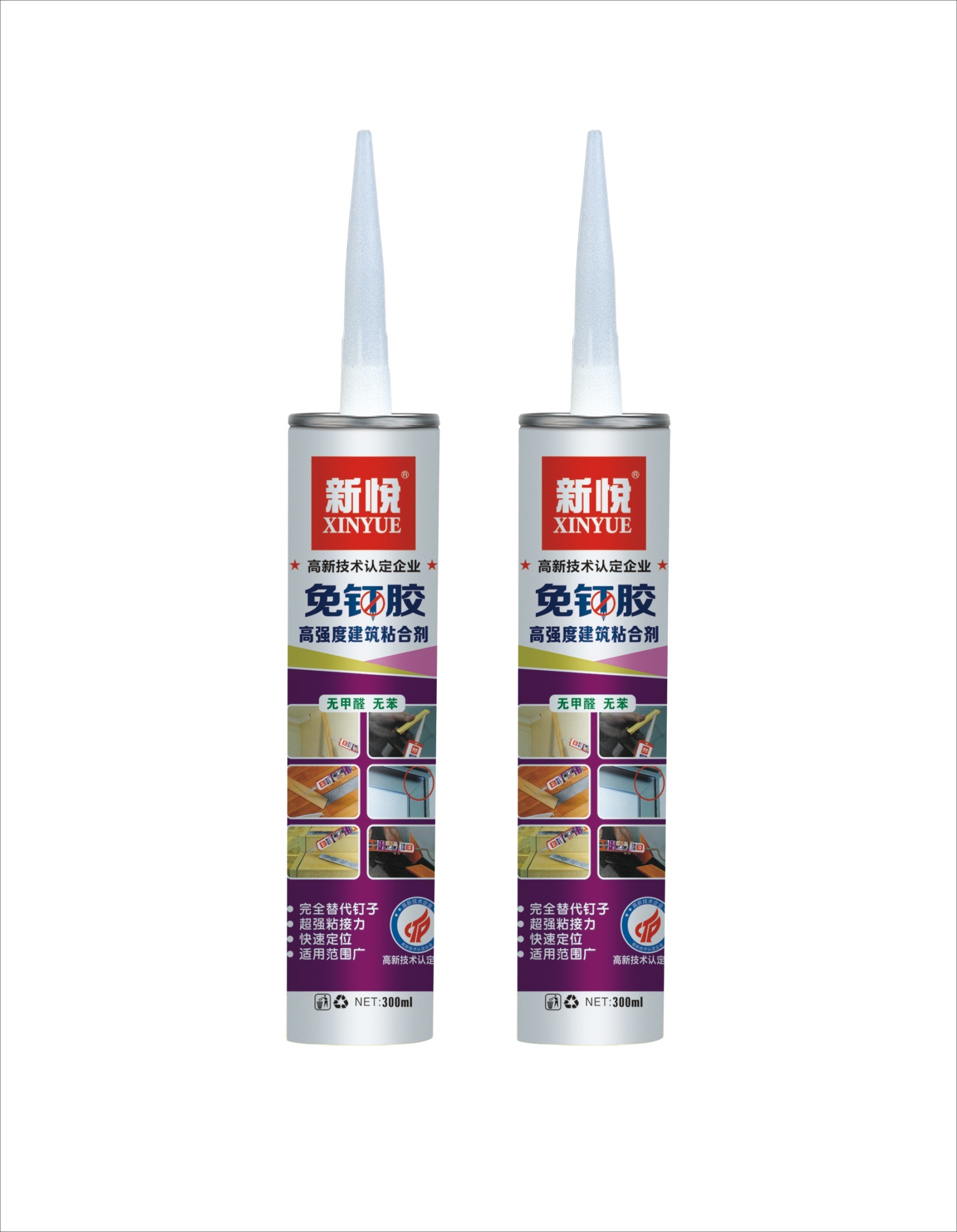 Xinyue high-strength building nail-free glue
---
---
Xinyue brand high-strength nail-free glue

Product overview:

Xinyue brand high-strength nail-free glue: with super adhesion, easy operation, time-saving and wide use and other excellent functions, can bond most materials such as: wood, stone, metal, ceramics, glass, plastic, rubber, gypsum board, fiber, various materials decorative pendants, etc., energy to a large extent to replace nails, screws, to ensure that the nailless construction process is fast and perfect, environmental protection quality is in line with the high standard requirements of modern people, eliminating the cumbersome drilling and smashing nail construction process, More effectively improve work efficiency and save comprehensive construction costs, and its extremely high cost performance is favored by consumers.

Product features:
1. It has super adhesion, good flexibility and will not be embrittle.
2. Wide range of uses, suitable for all substrates, can be painted after drying.
3. It can be caulking, no sagging, waterproof, mildew-proof, and has earthquake resistance.
4. No noise, no pollution, no carapace, low carbon and environmental protection.
5. No drilling, no damage to the substrate, simple operation, perfect and fast.
6. High temperature resistance, moisture resistance, cold resistance, -20'C weather can be operated.
7. Effectively replace traditional iron nails and screw construction, durable and firm.
8. Save construction time, save amount and reduce comprehensive construction cost.

How to use:
1. Clean the surface of the construction substrate to ensure that there is no oil and dirt.
2. Cut the nozzle, install the glue nozzle, and extrude with a sealing gun.
3. Paint on the surface of the substrate in the shape of "dot", "strip" or zigzag. (Depending on the shape and size of the substrate, the gluing method is selected)

Dry bonding method: (for lighter materials)
1. Light materials or small area substrates can be pasted directly.

Wet bonding method: (suitable for small and medium-sized areas with load-bearing substrates)
1. Extrude the rubber strip on the surface of the substrate to be pasted, maintain a spacing of 5 cm between the strips, and maintain a spacing of 2 cm between the strips and the edge of the substrate.
2. Combine the two sides of the substrate to be pasted tightly and smoothly, and then gently separate them, wait for the glue to evaporate for 2-5 minutes to dry, and then press and fit the two sides of the substrate. (Load-bearing substrate needs auxiliary support if necessary)

Large load-bearing substrate bonding method: (suitable for large-area load-bearing substrates)
1. When a large area of load-bearing substrate (attached to the wall or ceiling), it is necessary to apply glue on both sides of the substrate at the same time, and maintain a distance of 20-40 cm between the rubber strips.
2. Use the scraper to gently scrape the rubber strip to the inside of the substrate, and both sides of the substrate need to be operated in the same way. (Supplementary support if necessary)
3. The initial adhesive curing time is about 15-30 minutes, and the complete curing time is 24-72 hours.

Notes: (notes)
This product is a flammable substance, keep away from fire, prevent children from touching to avoid skin and eyes, store in a cool, dry, ventilated environment.

Storage period: Store in a cool and dry place from -10 ° C to 27 ° C, the validity period is 24 months from the date of manufacture.

Packing: 300ml

Color:Beige and porcelain white.